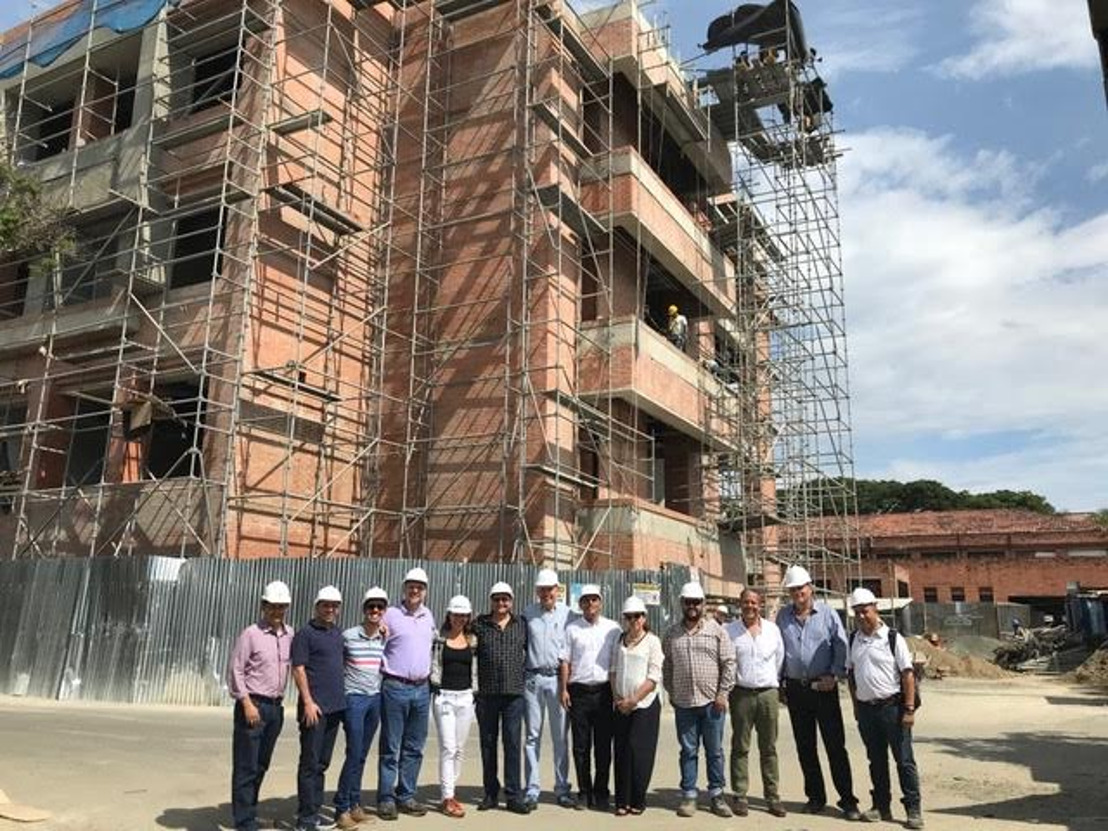 One Size Fits All: WSDG Breaks Ground on All-In-One Music Complex at Colombia's Universidad ICESI
ICESI Expands its Music Program With State of the Art Music Complex
Thursday, September 6, 2018 — Cali, Colombia – September 6, 2018 –Renowned architectural acoustic design firm WSDG (Walters-Storyk Design Group) has announced its latest achievement in educational facility design with Colombia's Universidad ICESI, a brand new building for the university's rapidly expanding music program scheduled to open in January of 2019. WSDG, recognized for many of the world's top recording studios and performance venues, has also made a sizeable mark on music education with teaching complex designs for such major schools as: Berklee College of Music, NYU, The International School of Panama's Performing Arts Center, and The Conservatory of Music in Switzerland.
The ICESI building is a meticulously designed all-in-one space designed to provide students with access to not only classrooms and rehearsal spaces, but purpose-designed media labs, video production rooms, and multiple world-class recording studios. "That's the magic," enthuses Sergio Molho, director of business development at WSDG, "They can start with the theory in the classroom, rehearse with the ensemble upstairs, then record in one of the studios, and create video and promotional materials down the hall. It's the entire process of a professional production contained in one building!"
An Expanding Program
Until recently, the music program at ICESI was one of its smaller offerings, averaging no more than 20 students a semester. Corresponding with efforts by the university to expand its other programs, ICESI Music Department Director Matteo De Los Rios along with the governing body of the University contracted WSDG to design the interior of the structure. De Los Rios, a Berklee grad himself, was familiar with WSDG from their work there as well as at Javeriana University and Universidad de Los Andes in nearby Bogotá. "Their program is very similar to Berklee's," Molho said, "It's not just performing or recording, it also exposes students to the marketing and business sides. As a result they needed a special space that could accommodate all those moving parts."
The project was spearheaded by WSDG Senior Project Manager Mariana Varon and Senior Systems Designer Frederico Petrone, with the planning process taking a year from conception to execution and taking advantage of WSDG's longstanding experience in designing purpose-built spaces. "We used a building structure that was common on the University grounds as a template," Molho says, "It starts as a shell, and then we use proven, tested techniques to make the best use of the space and design, so it suits the acoustic needs of each room perfectly."
Groundbreaking Facilities
The four-story building is divided into different sections, each carefully laid out to suit the needs of the different aspects of ICESI's music program. The first floor is divided between classroom and media lab spaces and the first of three top-of-the-line recording studios in the building. Floor 2 features large rehearsal spaces, suitable for bigger ensembles and more complex instrumentation. Floor 3 features two more recording studios linked with a large two-story live room as well as multiple isolation booths. Finally, Floor 4 features a honeycomb of individual rehearsal spaces, as well as purpose-designed labs for piano and percussion students. "What makes this building so unique is the combination of rooms," says Molho, "There are very few facilities in the world like this, that have it all under one roof." Once completed, the facility will be able to serve 200 students
The initial phase of the opening is set for January 2019, with the first two floors open to students. Floors three and four will open in May of 2019, and the university will scale up the class size accordingly.
ABOUT WSDG, LLC
WSDG has designed nearly 4000 media production facilities worldwide. Projects range from Jimi Hendrix's Electric Lady Studio and Jazz At Lincoln Center in New York, to broadcast facilities for The Food Network, CBS and WNET, over twenty teaching studios for The Art Institutes, and corporate clients such as Sony, IBM and Novartis. Recent credits include Jungle City in New York, The Church Studio, in London, private studios for Green Day, Jay-Z, Bruce Springsteen, Alicia Keys and Academy Award-nominated film composer Carter Burwell. WSDG has collaborated with such noted architects as Frank Gehry, Philippe Stark, Rafael Viñoly, Santiago Calatrava, Grimshaw, and Norman Foster. An eleven-time winner of the prestigious pro audio NAMM TEC Award for outstanding achievement in Acoustics/Facility Design, WSDG maintains U.S. offices in New York, Washington, DC, San Francisco and Miami and global offices in Barcelona, Basel, Beijing, Berlin, Belo Horizonte, Buenos Aires, Mexico City and Mumbai.